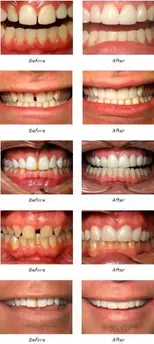 Are you unhappy with your smile?
Porcelain veneers are a popular choice for people looking to improve their smile.
Dental veneers are thin shells of porcelain that are custom fitted to the surface of your teeth.
Porcelain veneers can dramatically change dark, stained, and even crooked teeth in just two visits.
Most patients are surprised to learn that porcelain veneers resist staining. Porcelain veneers are composed of a ceramic material. The porcelain veneers' surface is very similar to glass and will not be stained by coffee, smoking, or other habits.
We offer a free no-obligation consultation for dental veneers, as well as bleaching, and Invisalign.
If you are considering porcelain veneers call us at 918-622-3915 today to schedule an appointment.