Payment Options
For your convenience, we accept cash, personal checks, money orders and major credit cards including, Visa, MasterCard and Discover. Payment is expected at the time services are performed. When more extensive dental care is necessary, financial arrangements can be made with Care Credit.
Insurance
As a service to our patients, our practice accepts most dental insurance programs. Our staff will prepare all the necessary forms for your dental insurance. However, we remind you that your specific policy is an agreement between you and your insurance company. Please keep in mind that you are responsible for your total obligation should your insurance benefits result in less coverage than anticipated. Our staff will gladly submit a pre-treatment estimate to your insurance company so that you will know what your benefits will be.
The fees charged for services rendered to those who are insured are the usual and customary fees charged to all our patients for similar services. Your policy may base its allowances on a fixed fee schedule, which may or may not coincide with our usual fees. You should be aware that different insurance companies vary greatly in the types of coverage available. Also, some companies take care of claims promptly while others delay payment for several months.
Financing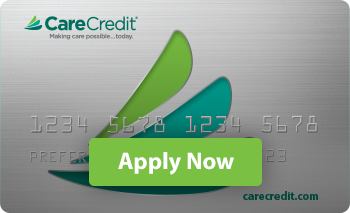 We're pleased to offer our patients CareCredit. CareCredit lets you begin your treatment immediately – then pay for it over time with low monthly payments that fit easily into your monthly budget.
CareCredit offers a full range of No Interest and Extended Payment Plans
6, 12 & 18 month plan options (some restrictions may apply) No interest if the balance is paid within the specified time period Low minimum monthly payments
24, 36, 48 & 60 month plan options (some restrictions may apply) Monthly payments as low as $25.00 (Interest rates may vary)
Apply for CareCredit and you'll receive an online decision in seconds! Click the link above to apply now or email or call our office for more details.
Should you have questions about any aspect of dental disease or treatment, or have a specific problem or treatment need, contact us at:
The information provided at this website is advertising material and is for general information purposes only. The material on this site does not constitute medical advice. DO NOT copy any items on this site. Use of any agency logos, forms or there likeness is strictly prohibited.